আজি চাওঁক- APSC Result 2018-2020 direct download link (CC and others)
As you Know we are very serious to bring Assam Career Results for you, please visit our website regular basis.
APSC Result 2018-19 is available in this page.
We publish all the results of the APSC exam here.
For any type of examination conducted by Assam Public Service Commission, please visit this page.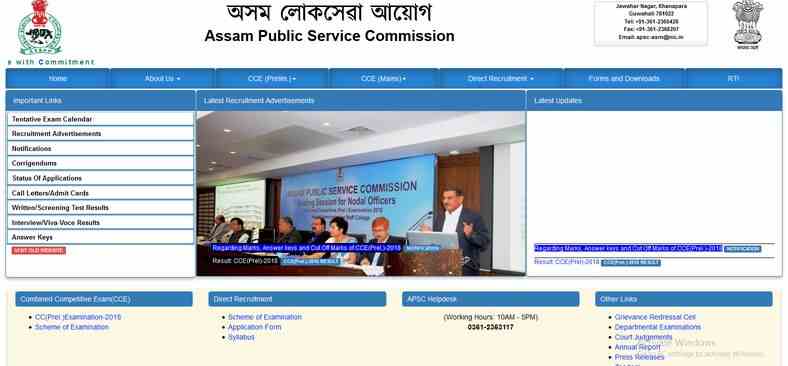 How to download APSC result
To download the APSC result, you have to go to the direct link given in the paragraph below.
I have given the link to the official page of APSC which provides the result of APSC exam 2018-19.
Download APSC Results from APSC Homepage
To download your result from the APSC homepage, you need
Visit the website http://www.apsc.nic.in/.
See the latest updates section
Look for the link to your desired test result.
Link to link
Your result will be downloaded to your device.
Direct link to download APSC result
It is very easy to download the APSC exam result directly from the link.
Just look at the paragraphs below.
We have conducted various ASPC exam results on this page.
The results are done here date-wise.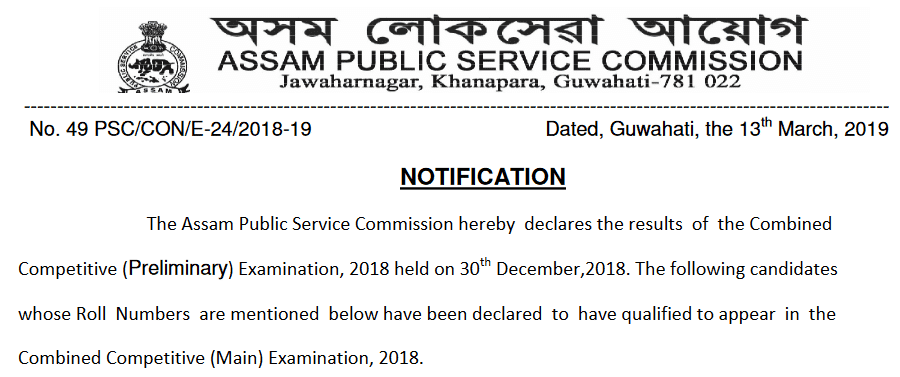 APSC CCE (Prelims) 2018 result
Assam Public Service Commission has declared the results of Combined Competitive (Preliminary) Examination 2018. The APSC CCE (Prelims) 2018 exam was held on 30 December.
---
Now you can download the result of APSC CCE (Prelims) 2018 from the link given below.
Please download your result as soon as possible.
After completion of the preliminary examination, you have to prepare for the main examination.
The said examination will be held temporarily during the month of July, 2019.
APSC CCE (Preliminary) 2018 result format
The roll numbers of the eligible candidates are in the form in the APSC Result 2019 Sheet.
The Commission will not be responsible for any printing mistakes.
The result can also be downloaded from the official website of APSC – www.apsc.nic.in.
In respect of the malfunctional errors in the answer keys, the Commission has provided grace marks on 'pro-rata basis' in the related cases in the appeal number (Civil) of the judgment of the Hon'ble Supreme Court. 1997 of 2008.
APSC CCE (Prelims) 2018 results released
Results of 3 (three) candidates affecting Roll Nos. 1022748, 1503707 and 2901855 were placed in WP (C) No. 8716 (2018,7834 / 2018 and 7655) in compliance with the order of Hon'ble Gauhati High Court dated December 20, 2018. Huh. / 2018
Best wishes for your dream job in Assam.
You may visit our most viewed pages here- 1. Graduate jobs, 2. HS Passed Jobs, 3. HSLC passed Jobs
Thank you for visiting and supporting us.